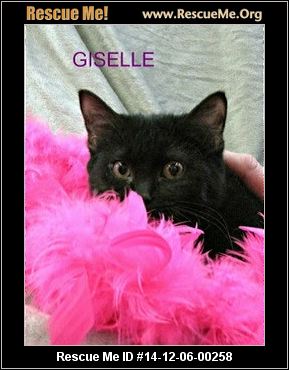 Rescue Me ID: 14-12-06-00258
Giselle
(female)
Domestic Cat    Age: Kitten


| | |
| --- | --- |
| Compatibility: |  Good with Most Cats, Good with Kids and Adults  |
| Personality: |  Average Energy, Average Temperament  |
| Health: |  Spayed, Vaccinations Current  |
    My name is Giselle (Jiz elle) and I want to say hi. My friends and I all talk, and I am usually drowned out until the door opens and they run off. I have a small meow, I am a small lady, and my mother taught me yelling is rude. I like playing with my friends here, we have interesting items to conquer, drown and run after. I like talking with my friends, we have so many stories that you hoomans don't understand. I like to have the people around pet me, snuggle me, and talk to me. I would love to find out what this home thing is that I hear about when animals are leaving with people. I want to have that time of standing in front of the wall ... (Read More)and having a flash thing go off. I want everyone seeing me go out that door with someone who wants me as their new cuddle buddy. (Less)

Adoption Fee: $40
Animal Location:

Tama County Humane Society
1406 E 5th Street
Tama County Tama, IA 52339 MAP IT!

Contact:

TCHS phone: 641-481-7001 Open Saturday 9-12 and all other times by appointment;
Please send email for the fastest response. Adoption fee for every dog $80 which includes spay/neuter & vaccination update. Adoption fee for cats $40.